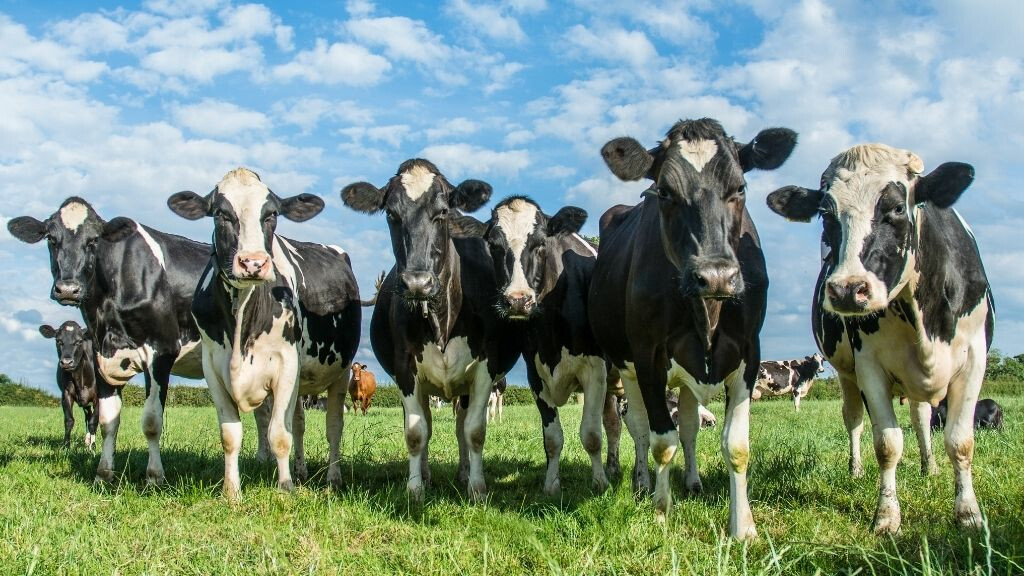 I spent many years working with dairy cows. I like cows.
I often refer to dairy cows as the "queen" of all farm animals. Unlike others farm animals, such as chickens, steers, or hogs, cows carry a pronounced majestic aura about them. The distinct grace and presence of a cow is undeniably compelling. Rarely is a cow in a hurry. If they are, it is not a good day for the cow or the farmer. Rarely is a cow temperamental or unfriendly. Cows are typically quite content and never carry a grudge unlike a mean, barnyard dog. Cows also are their very best when among community…they love being around other cows.
To see a cow lying down and chewing her cud is truly a sign of peace. Indeed, all is well with her. Cows are happiest when today is just like yesterday and tomorrow is just like today.
Rarely does a cow get bent out of shape except when it comes to a change in their habit. At the farm which I worked, each cow had her own given birth name which was reflective of her registration. The barn had three different size stalls which housed the cows. As the barn expanded over the years, stall sizes increased with each addition. Upon calving, the larger 4 and 5-year-old cows were promoted to the newer, larger stall. The 2-year-old heifers and first-time mothers were placed in the smaller stalls.
Cows are incredibly habitual. They love rhythm and routine which is complimented by an incredible memory. Rhythm, routine, and memory can be a very good thing.
As a cow calved and reentered the milking herd, assigning the cow a new stall was often times a straight-forward task. Other times, one would realize, that assigning a new stall was an earth shattering event and a deal-breaker for the cow and she would dig in. Believe me, a cow that plants all four feet is really quite immovable. Sometimes it would take no less than three persons—two pushing and one pulling the cow into her newly assigned stall. Without fail, as she reentered the barn early in the morning, we would have to interrupt her memory and habit and evict her—again, from her former stall and move her to into the new, larger, more comfortable stall.
As a herdsman, my impatient thought was, "Seriously, my queen, what don't you get about this? This is a good move for you!" In time the queen would "get it" as the new stall became her new habit after several days.
As it is with cows, so it can be with us. Habitual we are.
From the very beginning of the God story, the LORD began the daily practice of walking daily with the man in the cool of day in the Garden. A daily meeting place and daily walk with God. How neat is that! That is, until one day the man did not show up at the usual meeting place, which is another blog for another time. (Ge. 3:8-9). The point is, the LORD is the creator of rhythms and habits for our good.
So, when Jesus enters the Gospels, rhythms and habits continue. While in his hometown Jesus launched his ministry, and as it was in the beginning, rhythms and habits paved the way for this launch: "where He was brought up…and as was his custom, Jesus went into the synagogue…" (Lu. 4:16)
In recent months, I have been in more conversations than I care to count, inquiring how the pandemic has changed rhythms and habits. I am questioned all the time, "How are things going?" "What has changed for you?" or, "What does church look like at the backend of a pandemic?"
Frankly, I am sick and tired of talking about the pandemic. I find myself avoiding even using the word "Covid" as it is wearisome and draining. There is little about a pandemic that is life-giving, hope-filled, celebratory, or unifying.
The pandemic has been (and continues to be) incredibly divisive and encrypted on all sides, medically, politically, and theologically. It is flat-out exhausting—and the enemy absolutely loves it. There are many spins, opinions, and distrusts on all sides of the discussion which has morphed into a narrative one could not have imagined prior to March, 2020. The pandemic has also impacted faith and the church.
This said, national faith experts and statisticians such as, The Barna Group, Christianity Today, and Thom Rainer, declare, in a post-pandemic reality, the church will never be the same.
Is such a declaration a good thing or a bad thing?
Is this a loss or gain for persons of faith and the church?
One thing it is for sure, it is change.
Whatever it is—every time the barn door opens, the Farmer is faithfully waiting at the barn door, yet I often find myself being that cow determined to get into her old stall.
Surely the "old stall" is better.
I know that stall. I like that stall. I am comfortable in that stall.
What if the new stall is indeed far better? Is it possible the Farmer has my best interests in mind by redirecting my rhythms, habits, and comforts toward something new or even better?
I go back to three questions posed at the onset of the pandemic by a bishop brother which finds alignment with such a metaphor:
LORD, what are You asking me to give up?
LORD, what new thing are You trying to teach me?
LORD, what is it that You do not want me to miss?
These are good questions to sit with in most any season of life, but especially now.
Indeed, the past year was a year of sacrifice as we were involuntarily asked, or even forced, to give up something. However, the larger question is, what did I learn or what am learning through this strange season? What is it that the Lord does not want me to miss?
To live through a global pandemic and learn nothing about God or ourselves would be a blatantly missed opportunity. Likewise, to press through a global pandemic and the layers of national drama and expect the surrounding farm-scape to be exactly as it was, is likely unrealistic.
To be sure, the LORD is constant and unchanging—while at the same time, the Holy Spirit is constantly in motion and on the move.
Though the pandemic, its death, destruction, isolation, fear, and divisive nature was certainly not of God, the LORD will use it and redeem it for His glory. I have no idea what the future of the church in America will look like in three, five, or ten years from now.
However, this I know—the Farmer loves his cows.
The Farmer calls His cows by name.
The Farmer will NEVER abandon his herd or walk away from the barn.
The Farmer has the best interests of His cows and the farm in mind.
Even when our comfortable stalls need to be reshuffled and new rhythms are introduced in the barn, rest assured, the Farmer is ever present and ever caring for His herd.
No matter what storms pound the farm-scape around us, the cows can trust the Farmer.
"I am the good shepherd. The good shepherd gives His life for the sheep. But a hireling, he who is not the shepherd, one who does not own the sheep, sees the wolf coming and leaves the sheep and flees; and the wolf catches the sheep and scatters them. The hireling flees because he is a hireling and does not care about the sheep. I am the good shepherd; and I know My sheep, and am known by My own. (John 10:11-14)